Spring Farm Alpacas – June Newsletter 
June is one of the busiest months of the year at Spring Farm. No sooner than we had finished the alpaca "showing" season, we then had the whole herd sheared on the 2nd June. Shearing day is pretty full on – but this year was much worse than normal as the weather forecast was heavy rain and strong winds. So we had to keep all the alpacas in the barns overnight as you can't shear when they are soaking wet! Alpacas are great at holding their bladders etc. until one of them goes to the toilet – at which point they all join in! We spent the first hour of the day just cleaning up – but were finally done by 8pm!
We now have our full complement of Llamas as Rosselli and Eron have been joined by two amazing girls – Suada and Mandola. Llamas are camelids – like alpacas – but were bred by the Incas as pack animals so are capable of taking a load on their backs. They differ from alpacas in being nearly twice the weight/size, having banana shaped ears, and hold their tails up as they walk. Some would say they are a bit more aloof – but in reality they all get on pretty well. Suada and Mandola are now in with our non-birthing females and Rosselli and Eron have now joined our junior males and are eating out of our hands.
At the time of writing this, we have 22 cria (baby alpacas) on the ground and are expecting 3 more for this year.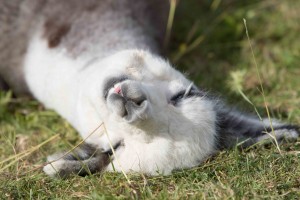 The alpaca walking is going really well. We are now doing walks most days of the week but have tried to limit it to just the one walk a day. This is so we can offer a "Rolls-Royce" service and not be rushing people off the farm so as to welcome a new group. Typically we allow up to an hour for the walk and then spend some time with the mum's and babies and talking about fibre/fleece.
The fields are at their most impressive as we are not able to cut our hay until 15th July owing to the farm being in Higher Level Stewardship. This is an agro-environmental agreement which we are now in the second ten year phase of. In short, it means we don't use fertilisers, pesticides and manage the farm for maximum bio-diversity and wildlife benefit. As we walk the alpacas we normally see wild fallow deer as the females have been birthing in our fields, and they leave their fawns in the long grass whilst they forage.
After a female alpaca gives birth, she is at her most fertile in just two weeks. So we are arranging "romantic encounters" for our females with our stud male alpacas. Typically, a male is chosen based on their fibre qualities, fleece colour and conformation. As Spring Farm has some of the most exciting genetics in the UK, we are also very busy taking our stud males out in our tailor made van to visit other breeder's females. This is an integral part of the business but means we spend a lot of time on the road/M25! The breeding season is quite short – it starts in mid May – and will be over by the end of August.
So, it's an exciting time with lots of babies running round the fields, great weather (on the whole), the hay cut and in the barns (hopefully) and our social life re-instated! Come and visit us soon.
Chris and Vicki Agar
Spring Farm Alpacas, Spring Farm, North Hall Lane, Fletching, East Sussex, TN22 3SA
H: 01825 790885 M:07776 181811/12
www.springfarmalpacas.co.uk www.alpacawalking.co.uk