When you come for an alpaca walk at Spring Farm Alpacas, you will be within easy reach of a number of stunning local attractions! Spring Farm is within the High Weald AONB (Area of Outstanding Natural Beauty). Also within the High Weald AONB and only 3 miles away from us is the Ashdown Forest with 6500 acres of stunning countryside and views.
We are just minutes walk from the picturesque village of Fletching in East Sussex. The village got its name from the soldiers who "fletched" their arrows here on the eve of The Battle of Lewes in 1264. Our village church (St Andrew and St Mary the Virgin) is really beautiful and dates back to Norman times.
After your alpaca walk, you might consider a further short walk (or drive!) to our village pub – the renowned Griffin Inn. The Griffin has just won Country Dining Pub of the Year 2022! The Griffin can be reached from a public footpath leading from our farm entrance directly to the village which is less than a mile away. This is a lovely walk but you might want to remember the wellies if its Winter time as its across a number of small fields. Within that same distance we are very fortunate to also have Trading Boundaries. Trading Boundaries is at various times an antique Indian furniture warehouse, an outstanding music venue and bistro/restaurant with a children's play area and courtyard of boutique shops!
Within easy driving distance of Spring Farm are a number of stunning attractions, including:
Sheffield Park Gardens
The Bluebell Railway
Bluebell Vineyard Estates
Wakehurst Place
The South of England Showground
Glyndebourne
The Ashdown Forest – Winnie the Pooh country!
The South Downs Way
The South Downs National Park
Brighton and the coast
Hickstead Showground
We can suggest a host of places to visit or to eat close by either before your alpaca walk, or after. In normal times the selection below would be ideal – but since COVID 19, please check all of them for current opening times, protocols etc.
It's in Fletching village about a mile from us. Does good gastro pub food, great atmosphere and has both restaurant and bar. Food is served 12 till 2.30pm weekdays, 12 till 3pm on Saturdays and 12 till 3.30pm on Sundays. They are also open from 6pm to 9:30pm Monday to Saturday, Sunday 6:30pm to 9pm. Great beer garden – The Sussex Serengeti! There is parking opposite the Griffin if the pub car park is full (it normally is). The Griffin is The Good Pub Guide 2019 "County dining pub of the year". Please just be aware it does get very booked up so advance booking is strongly advised.
Fletching Village Stores
In the village of Fletching. Does great coffee and cakes (and deli).
They are open from 8:30am till 2:30pm Friday, Saturday; 9am till 2pm Sunday – but please check as they have just changed their days/hours.
It's a short mile from us in the opposite direction to Fletching Village. It's a bistro/Indian furniture warehouse/ music venue/ art gallery. They are currently open 10am till 3pm Wednesday to Saturday, 11am to 3pm Sunday for coffee, cakes, rolls, soups and savouries.
About 3 miles from us, the Coach is another gastro pub with good food. Food is served 12 till 3pm, 5:30pm to 10pm on Tuesday to Friday; 12 till 10pm Saturday's and 12 till 6pm on Sundays.
About 4 miles from us. We don't get a chance to get out much for Sunday lunch (something to do with walking alpacas) but the one time we went here recently for Sunday lunch, the carvery was really good and good value too. They are open from 11am till 10pm Monday, Tuesday, Wednesday and Sundays, 11am to 11pm other days.
Just over 2 miles from us. "
Breakfast, light lunches, daily specials, toasties and cream teas".
Open Every Day from 10am to 4pm,
Last food orders at 3pm.
Denniker Farm Shop and Café
– just outside Fletching: 
Denniker Café
Offers "cooked breakfasts, vegetarian & vegan brunches, afternoon tea, sandwiches & savouries, snacks, cakes and daily specials". Open Monday to Saturday, 8:30am to 4pm.
Others you might try are:
In the middle of the Ashdown Forest very pretty but slightly further away.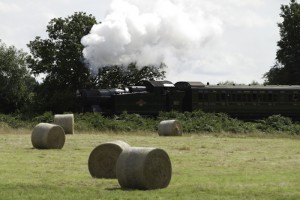 The Bluebell Railway taken from our water meadow at hay making time.